The website of MultiTrade Global does not reveal who owns or manages the company.
It appears that MultiTrade Global is running at least two domains, namely "multi-trade-global.cc" and "multi-trade-global.org".The. ORG website was previously accessible.
Currently, it displays the following error message: However, most of the content on the CC website is in Russian.
MultiTrade Global makes an effort to appear legitimate by providing the following information about its UK incorporation: As far back as 2015, our company has been in the business of making trades.

According to the UK company registration number 13700888, Multitrade Global LTD was established in 2021.
When MultiTrade Global LTD was incorporated on October 25, 2021, this number was assigned to the company. An MLM company that claims to be based in the United Kingdom is a bad sign.
Incorporation in the United Kingdom is incredibly inexpensive, and there are virtually no regulations in place. With the FCA (the UK's top financial regulator) not actively enforcing MLM-related securities fraud, it's even worse.
It is because of this that the UK has become a popular location for scammers who want to set up and run fraudulent businesses.
UK incorporation or registration with the FCA has no bearing on MLM due-diligence. MultiTrade Global's ties to Russia are readily apparent, unlike those of the United Kingdom.
For Russian speakers, MultiTrade Global's website has an "Alikass" button in addition to Russian as an available website language. Alikassa, the Russian payment processor, On the official YouTube channel of MultiTrade, it's pretty obvious.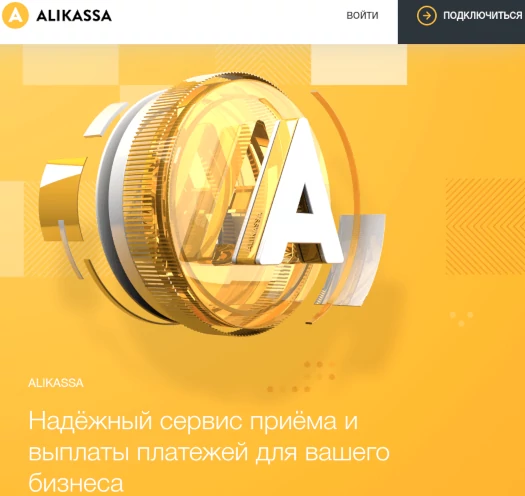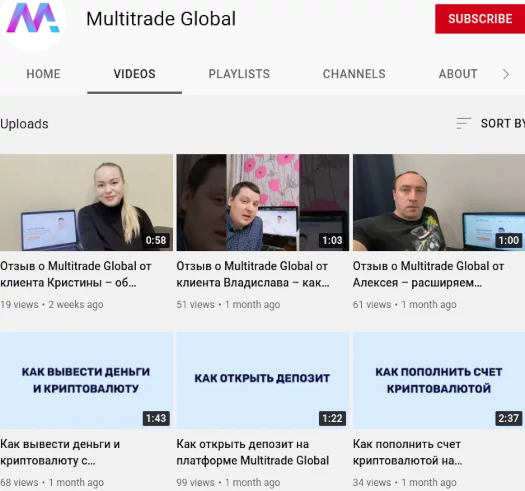 MultiTrade Global's.CC website, with 18% followed by Vietnam and 12% for Ukraine. 15% of the total Don't join or hand over any money to an MLM company unless they are completely transparent about who owns and runs it.
MultiTrade International: Products There are no products or services that MultiTrade Global can sell. Members of the MultiTrade Global Affiliate Program are only allowed to promote the benefits of being an affiliate. Global MultiTrade Investment funds are made by MultiTrade Global affiliates in accordance with the company's stated returns.
Standard – for a period of 70 days, you can expect to earn 1.8 percent interest on a $20 to $9900 investment. You can earn 2.4% per day for 70 days by investing $10,000 to $24,500. Professionals can expect to earn 3% a day for 70 days if they invest $25k to $100k more.
The returns on the second and subsequent investments will increase, as is customary; the second investment will pay out 2% daily, while the third and subsequent investments will pay out 2.30% daily. investments pay 2.6% per day, while the third and subsequent investments pay 2.9% per day.
This is advanced. The second investment pays 3.2% per day, and the third and subsequent investments pay 3.5% per day for the professionals. Additionally, MultiTrade Global specifies additional requirements for increased ROI rates: Is the client a reviewer of the platform and a follower of the official social media accounts of the platform?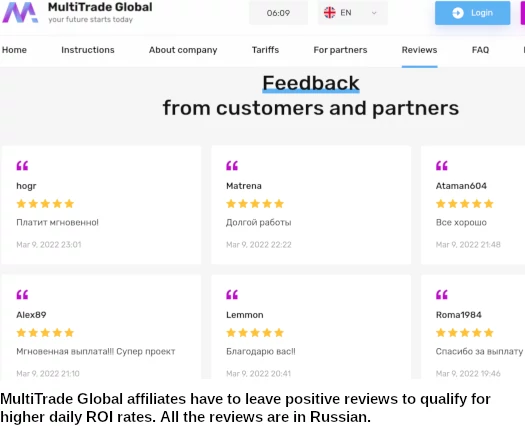 However, the extent to which that is enforced is unknown. MultiTrade Global's MLM division pays commissions for bringing in new affiliate investors. Referral commissions on invested funds are paid by MultiTrade Global at three levels of recruitment (unilevel) below: amounts to 6% of the total number of affiliates that are personally recruited. At the second level, the percentage is %.2% 1% at the third level.
If a MultiTrade Global affiliate brings in $100,000 in investment from their downline, the following increases in referral commission rates apply: Downline Investment Bonuses range from 10% to 3% for levels 1 and 2 and 1% for levels 3 and 4.
Affiliates at MultiTrade Global are rewarded based on the volume of investments they make in their downline. You earn $50 for every $5,000 invested in your downline. $200 for every $20,000 invested in your downline. You'll earn $500 for every $50,000 invested in your downline. In order to receive $1000 and the "possibility to connect an extended affiliate program with increased interest (higher ROI rates)," you must generate $100,000 in downline investment volume. downline investment volume and receive a $2500 incentive. $500,000 in downline investment volume generates $6,000 in commissions.
To become an affiliate, you need to sign up with MultiTrade Global. The End of MultiTrade International MultiTrade Global asserts that it generates revenue from sources outside of the company. insurance fund, which is replenished each time there is a positive close to the trading session.
An "insurance fund pre-formulated" doesn't make sense to me, so please explain what it is. Google doesn't know either. As long as it doesn't exist, it doesn't matter. The MultiTrade Global MLM Ponzi scheme is a cookie-cutter.
Because of its basic UK incorporation, MultiTrade Global pretends to be legal while providing no evidence of revenue generation from outside the United States. Is it legal for the company to do what it does?
Compliance with UK law and financial regulations is a top priority for this business. An introduction to this review stated that basic incorporation has no value. also outside of the United Kingdom. MultiTrade Global's Russian counterparts have already caught on.
The Central Bank of Russia issued a warning on February 10th about the MultiTrade Global pyramid scheme. As far as MultiTrade Global's MLM program is concerned, it's a classic Ponzi scheme.
A Ponzi model is used for the daily returns. This allows MultiTrade Global to make withdrawals until the invested funds are exhausted.
This model Consequently, MultiTrade Global collapses, leaving most participants with losses.