Bhutan's Office of Consumer Protection has declared OnPassive and Crowd1 pyramid schemes.
The OCP is part of Bhutan's Ministry of Economic Affairs and is "mandated to promote and protect the economic interests and safety of the consumers".
In accordance with OCP's OnPassive and Crowd1 warnings;
Consumers are urged not to engage in any manner whatsoever with Crowd1 and OnPassive businesses, according to the Office of Consumer Protection (OCP).
Pyramid schemes are found in their business practices.
In addition, the companies are violating the Consumer Protection Act of Bhutan 2012 and the Consumer Protection Rules and Regulations of 2015 by making false representations, advertising false products, and otherwise misleading customers.
OnPassive was reviewed by us back in January of this year. We also concluded that OnPassive was a pyramid scheme because of its matrix-based business model.
In order to become an OnPassive OFounder, OnPassive charges $97 and promises a commission for recruiting other affiliates.
Prelaunch for OnPassive has now lasted four years. Ash Mufareh and his team of Indian developers are the only ones who have made money from the company.
Also dating back to 2019, there has been a Ponzi scheme called Crowd1.
A number of marketing ploys have since been employed in the revival of Crowd1. Virtual shares in a UK shell company and an NFT game that no one cares about are the current ruses.
Jonas Werner, a Swede, is the CEO of Crowd1.
Werner moved to Dubai from Sweden last year. Dubai provides a safe haven for scammers because of its limited extradition treaties and lack of enforcement of MLM-related securities fraud.
According to our information, Dubai is the world's MLM scam capital.
As of this writing, Bhutan is the 18th country to take action against Crowd1.
In the wake of similar scam warnings issued by Nepal, Russia and other countries in the Asia-Pacific region, Bhutan has issued its own warning about the dangers of a pyramid scheme.
OnPassive and Crowd1's promoters have been ordered by Bhutan's OCP to "discontinue operation with immediate effect" by the government.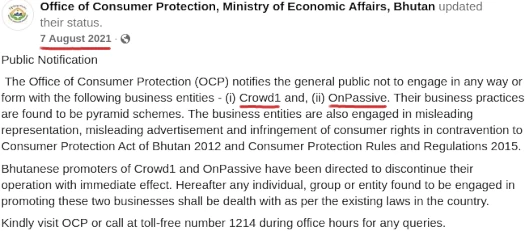 OnPassive and Crowd1 will be "dealth [sic] with as per the existing laws in the country" in Bhutan if they are promoted further.
In August 2021, the OCP issued a warning. Thanks to The Recovering Hunbot, I just learned about it.
There appears to be no media coverage of the OCP's warning in Bhutan, so it's not clear what the story is there.