The website of Full Velocity provides no information about the company's owners or management. A private domain registration for Full Velocity's website (fullvelocity.trade) was completed on December 31, 2021.
Further investigation reveals that James Ward is the CEO of Full Velocity: The CEO of LGN Prosperity, James Ward (pictured to the right), first appeared in 2010. Vouchers for travel were sold by LGN Prosperity, with each one generating an entry in a two-by-two matrix (2×2).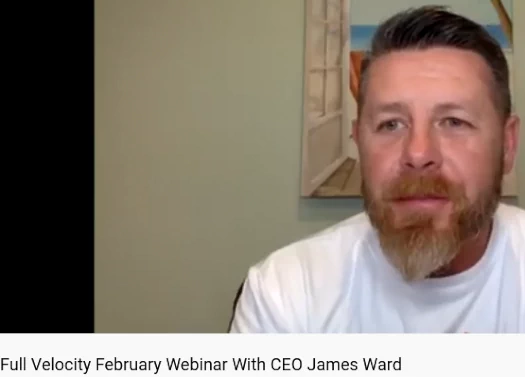 LGN Prosperity changed its name to LGN International in the middle of 2011 after months of not paying its affiliates. Travel services booked through LGN are now subject to commissions as a result of this name change. Ward took over as CEO and co-founder of iBizWave in early 2014, following the demise of LGN International in mid-to late 2013. To mark his return to the travel MLM niche, Ward launched in 2015 with 2SL Start Living.
When Ward's 2SL Start Living failed, he started Pangea in 2016. Travel disguised as a matrix cycler was Pangea's original business model. Pangea had collapsed by the beginning of 2017. Pangea was given a new lease on life thanks to Ward's innovative compensation scheme. Pangea 2.0 didn't last long either, given that the only significant change was the addition of a third tier to the cycler.
Ward reappeared with Sports Trading BTC, a crypto Ponzi scheme, in the latter part of 2019. As of December 2019, Sports Trading BTC had completely failed, prompting Ward to start over as Global Credits Network. According to Alexa's graphs of website traffic, the Global Credits Network is expected to go under sometime in April 2020.
Lion's Share, Ward's first smart-contract Ponzi scheme, went live at the end of June 2020. Ward launched Apex Financial in April 2021, after Lion's Share went bankrupt in early 2021. Hitesh Juneja and Jason Rose joined forces to form Apex Financial, a for-profit corporation. Affiliates were encouraged to invest in AFT tokens with the promise of a daily payout of up to 0.85 percent for 360 days.
Still, Apex Financial's website is operational. However, Alexa's traffic estimates show a decline in late 2021 for its website. An attempt to relaunch Lion's Share as "Lion's Share Velocity" in the middle of 2021 appears to have been made.
Whatever it was, it fizzled out so quickly that we didn't notice. In any case, the launch of Full Velocity last month is the culmination of all of this. Full Velocity's MLM opportunity is described in detail in the following paragraphs. Products from Full Velocity There are no products or services that can be sold by Full Velocity.
It is only possible for Full Velocity affiliates to promote their own memberships. It's Full Velocity's Payroll Policy. Full Velocity markets can produce weekly returns ranging from 0.21 percent to 5.4 percent. "FV Bot" is said to be the source of the promised profits.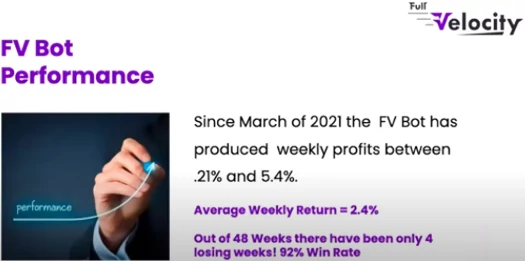 Full Velocity sells access to a cryptocurrency trading bot called the FV Bot. Full Velocity's weekly subscription fees are calculated as 30 percent of the returns paid out each week. The FV Bot requires a minimum of $200 to get started. At Full Velocity, all compensation transactions are done in tethers (USDT). Full Velocity MLM compensation is based on the weekly subscription fees that are paid by Full Velocity members who have been recruited by Full Velocity.
Ranks at every level of velocity. Six affiliate ranks are available to Full Velocity members. The following are the requirements for each of them: One of the first steps is to find an affiliate. Enlist the help of three allies. Recruit five gear 3 affiliates. At this point, you should have seven new affiliates. Recruit ten Gear 5 affiliates. Recruit a total of twelve affiliates in order to go at full speed.
Recurring Payments Using a unilevel compensation plan, Full Velocity pays out residual commissions. Every affiliate they personally recruit is at the bottom of a unilevel team in a unilevel compensation structure, and every affiliate they personally recruit is directly beneath them (level 1). In the event that any level 1 affiliate is able to bring on new affiliates, they will be promoted to the unilevel team's level 2. Affiliates in the second tier are automatically promoted to the third tier if they bring in new affiliates.
Full Velocity is only available for the first twenty unilevel team levels. As a percentage of the weekly subscription fees paid by customers at each of these twenty levels, residual commissions are paid out as follows: Affiliates with a Gear 1 ranking earn 25% on level 1 (those recruited by the affiliate) and 10% on levels 2 and 3. Earn 25% on level 1, 10% on levels 2-5, and 5% for level 6-ranked Gear 2 affiliates. Gear 3 ranked affiliates earn 25% on level 1, 10% on levels 2-5, 5% on levels 6-7, and 2.5 percent on levels 8–9. Gear 4 affiliates earn 25% on level one, 10% on levels two through five, 5% on levels six and seven, 2.5 percent on levels eight through fourteen, and 1.25 percent on level fifteen.
Affiliates with a Full Velocity ranking earn 25% on level 1, 10% on levels 2 to 5, 5% on levels 6 and 7, 2.5 percent on levels 8 to 14, and 1.25 percent on levels 15 to 20. There is a fee for Full Velocity Full Velocity affiliate membership. In order to continue making money, a monthly subscription fee of 30% of the weekly generated returns must be paid.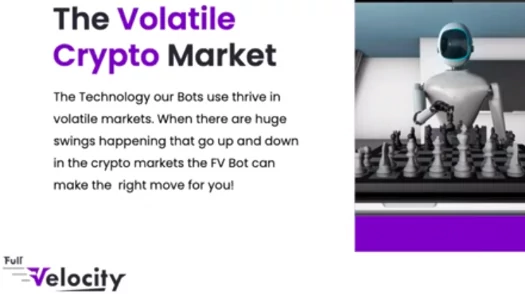 The End of the Road One interesting approach taken by Full Velocity is to sign up anyone for free and then collect fees from the profits. Regulated non-compliance relating to securities fraud is not exonerated. According to Full Velocity, the FV Bot is the company's most recent invention. It creates an inherent hedge by taking both long and short positions at the same time.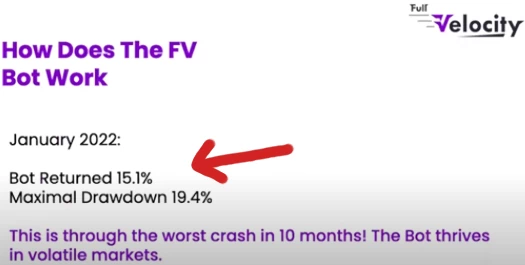 A winning position's gain is greater than a loss, so the optimal exit positions are those where the loss is less than the gain. You won't find a "dollar cost averaging" bot like this one, which repurchases positions and then gets stuck in trades for weeks on end. Full Velocity does not provide audited financial reports, so it is impossible to verify this. This could be a violation of the Federal Trade Commission Act.
It's also a stretch to accept James Ward's claims about trading value as gospel truth. In January 2022, Ward claimed that the FT Bot generated 15.1%. You wouldn't give away access to a 15% monthly profit-making trading bot for free if you had one capable of doing so. It is more likely that someone with a 15% trading bot will simply run it in the background. In a few years, you'll be the richest person on the planet.
That's all assuming, of course, that James Ward is telling the truth about his trading revenue. According to the "verified third party data" claimed on the Full Velocity website, weekly returns go back to March 2021. What is the source of this information? Surely the SEC must have received a copy of it.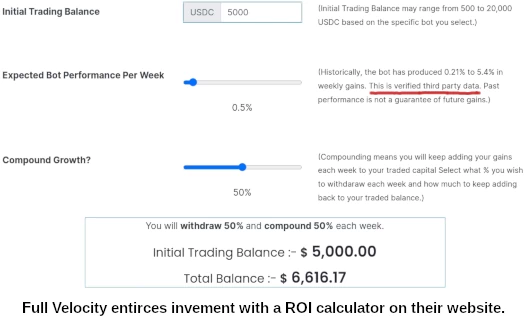 Passive returns, regardless of how they're generated, are securities in MLM companies. The Securities and Exchange Commission (SEC) must be notified of any public offering of securities. Full Velocity and James Ward are not registered with the SEC, according to a search of the SEC's Edgar database. FT: Ward said Full Velocity and Bot Bot are legal, according to Ward. It's illegal to run a business if that's true.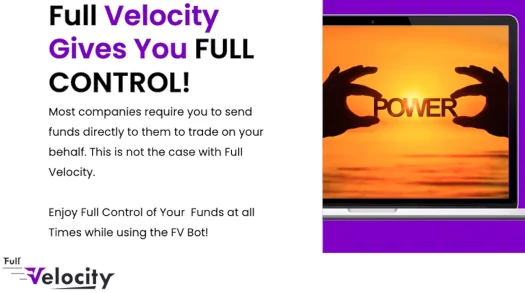 By combining Ward's history of scamming with this, you get a better idea of what Full Velocity is. This is a "lulz can't touch our money!" scheme. When it comes to that, you're going to hear things like, "you're in control of your money!" The money you give to Full Velocity's bot is completely out of your hands.
Full Velocity can do whatever it wants with your account. The bot is either blown up or some other excuse is used to make this happen. In both cases, the admins were able to exit-scam through rigged trades. Every "lulz can't touch our money!" scheme has this as its goal. The conclusion of Full Velocity will be the same as the previous one.