A possibility is EQT Bank, the relaunched version of Dragon Global Finance. As of this writing, EQT Bank is only allowing customers to log into their accounts. On February 24th, our readers alerted me to EQT Bank's existence.
Dragon Global Finance Ponzi scheme owner Anthony Norman formed EQT Group PLC in the United Kingdom on February 16th, 2022. EQT Group PLC is nothing more than a front. EQT Group PLC isn't of interest to us because we've covered UK shell company fraud extensively. It's EQT Bank, which is why the domain "eqtbank.com" was recently registered.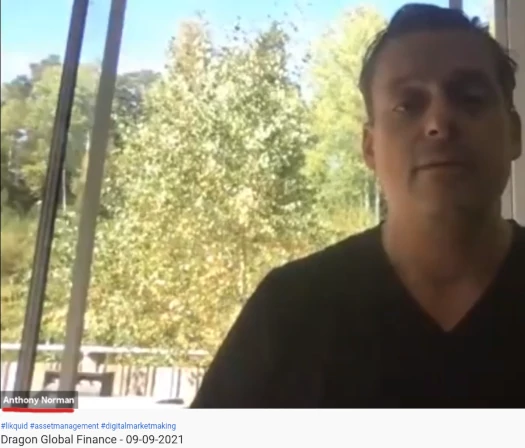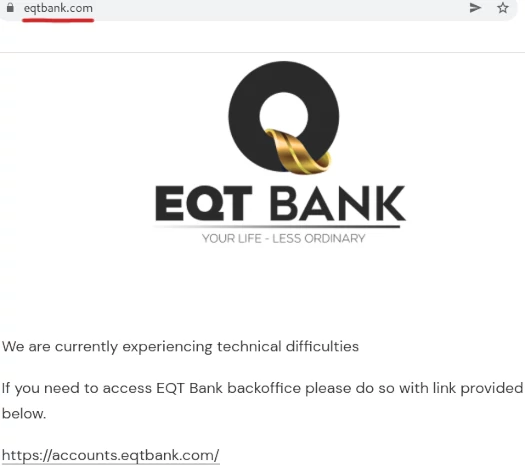 "Technical difficulties" is the current status of EQT Bank's website. After a little digging around, EQT Bank's website has a WordPress front-end. A non-WordPress subdomain, if it hasn't already been connected to Dragon Global Finance's backend, is linked by the login link.
So, what is EQT Bank? In January of 2022, the domain was purchased for a pittance. EQT Bank's non-functional domain redirects visitors to Dragon Global Finance's website. On January 29th, around the time that Norman bought the EQT Bank domain name, this change was implemented.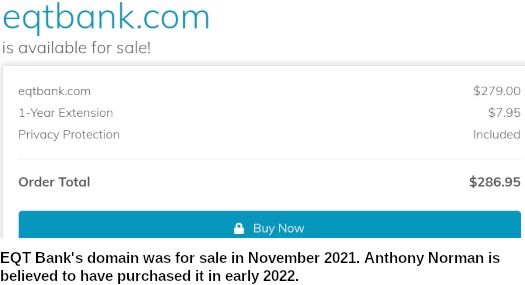 Dragon Global Finance is also mentioned on the terms and conditions page of the EQT Bank website. Here we learn about Mbakey Export and Finance Limited, an FCA-registered business that appears to have served as Norman's nexus for financial deception in the past.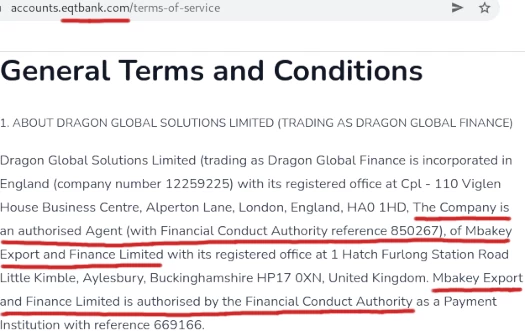 This is yet another Anthony Norman shell company rabbit hole that we've fallen into. In January 2015, Mbakey Export and Finance Limited was registered with the FCA. Mbakey Export and Finance Limited is linked to Mbakey Sowe and Ndey Yassin Sowe's shell company, Mbakey Export and Finance Limited. In order for Mbakey Export and Finance Limited to be registered with the FCA, they had to fill out some paperwork and get a "rubber-stamped" approval.
In January 2020, Mbakey Export and Finance Limited became a subsidiary of Dragon Global Solutions. The FCA had Dragon Global Solutions registered as a UK shell company until August 2021. Dragon Global Finance is linked to Premier Payment Solutions Limited as well as Mbakey Export and Finance Limited. There is yet another FCA-registered company, Premier Payment Solutions Limited, with a UK shell company incorporation.
Premier Payment Solutions was formerly known as Gambia Express Limited until September of this year. These details aren't likely to be relevant, as fraud is rife in the FCA and UK incorporations. In the event that regulators in a relevant jurisdiction need to follow this information, I've included it here as a paper trail. While this is going on, it's clear that EQT Bank is a forerunner of sorts to Dragon Global Finance. It remains to be seen if it is a pure clone or a modified Ponzi scheme.
Norman has set up EQT Bank in order to obfuscate his involvement in EQT Partners, which he intends to hide behind. Swedish private equity firm EQT manages many billions of dollars' worth of investments worldwide. It has nothing to do with EQT Bank or Anthony Norman.

As EQT Partners, we can clearly see Norman's plan to hide his new Ponzi scheme from the public. On or around December 20, 2021, Dragon Finance Global is expected to have gone out of business. No one knows for sure if Norman will continue the EQT Bank reboot or rebrand again.