For the past four years, OnPassive has been in prelaunch. This has now been reframed by Ash Mufareh as "over-delivering". There are threats of termination and legal action against any O-Founders who speak out. British O-Founder Red Redfern is on the OnPassive side of things.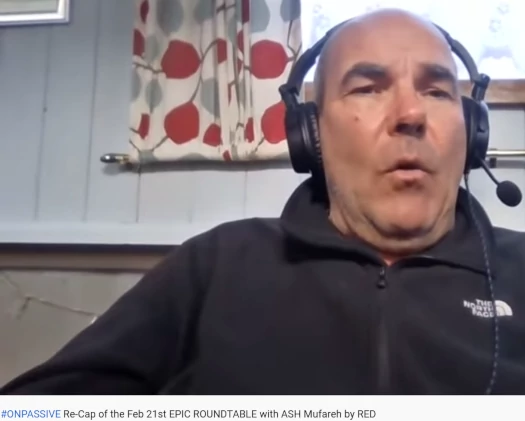 Redfern summarized Mufareh's remarks at a stream held the day before yesterday. OnPassive is owned by Mufareh. Since 2018, he's been pre-selling naive affiliates with a never-ending prelaunch. Mufareh "comes back fighting" in the recent OnPassive webinar, according to Redfern. Everything about it was mind-blowing. In fact, it was one of Ash's best webinars yet, in my opinion.. He began to treat this venture as if it were serious. The founders' statements and actions began to reflect the reality of what is acceptable.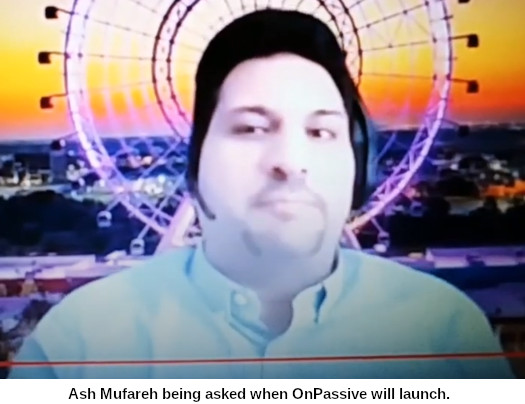 This year's best OnPassive webinar wasn't about launching the company or delivering profitably to its members; it was about Mufareh. Mufareh is about to get a lot more crowded now that the gloves have been taken off. As a matter of fact, it was an act of bullying and intimidation.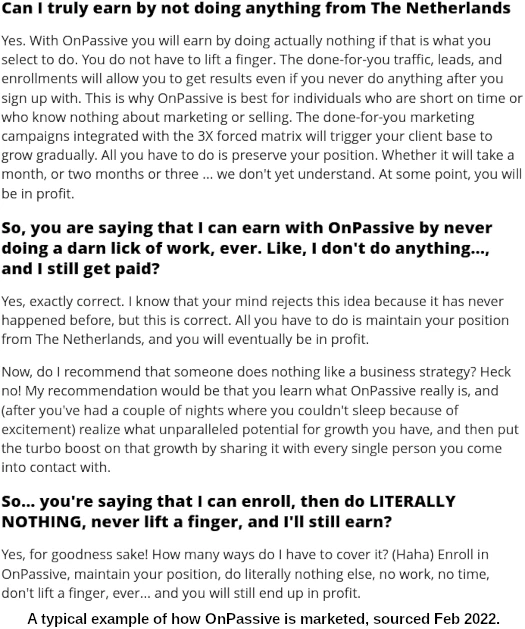 Mufareh must first deal with the obvious. The company's name is a reference to passive profits, but that hasn't come to fruition. It was just the other day that he had a meeting with his legal team… All agree that the $97 we paid to become a founder has already exceeded our expectations in that price range. It's not a typo. It's "over-delivering" in the bizarre world of OnPassive when you pay $97 and are told you'll make infinity money in the next "billion dollar unicorn company." Your Founders position is critical, and I'd like to stress that point once more.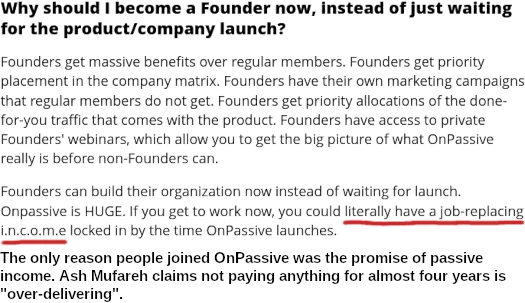 Folks, it's that fabled Willy Wonka golden ticket again. OnPassive's marketing strategy is being rethought by Mufareh. Imagine that we paid $97 for "me-too" software instead of Ash Mufareh telling us that we'll all be billionaires because half the world uses OnPassive's products for the next four years before we actually paid for it. If you want to get technical, there was a simple matrix-based pyramid scheme attached to the passive profits.
However, it appears to have been quietly dropped. Mufareh moves on to the next point of business after completing the OnPassive marketing message shift. Companies have the right to terminate founders who violate their nondisclosure agreements (NDAs) or defame the company in any way. So far, we've been able to deal with all of the negativity and slander coming from the Founders without getting defensive.
Everything is about to change. He (Mufareh) said that as of today, which was yesterday, we will no longer allow it. As a result of this, he has given this to his legal team, and he has stated that the first wave will be very harsh on many of these individuals. Keep in mind, guys, that there are many people out there who believe themselves to be intelligent.
They believe that they've been able to get away with a lot of things, and they're not happy about it. Not at all. He has a good idea of who they are. Ash has received a long list of names and information about what some of these people are up to. Not just the likes of YouTubers, either. In this context, I'm referring to content that is available on social media platforms like Facebook, Twitter, and Instagram.
He's aware of what's taking place. So, if you fall into this category, keep an eye out for the OnPassive axe, which may be bearing down on you very quickly. "Rewards" will not be given to those who are not "positive and supportive," says Redfern.
Those who initially bought into OnPassive's marketing message and have since realized they were duped should keep quiet about it. At this point, Mufareh is back to pretending that OnPassive's Founders position fees will be his only source of income going forward. They'll all be out of a job soon enough. Boom. That's right, as soon as the advertisements stop, boom.
The end. There will be no more Founders in the future. Mufareh has been using this as a marketing tool since at least the end of 2019. Pretending that OnPassive wasn't a "pay-to-win" opportunity has already been covered, as has threatening members with legal action and the absurd idea of cutting off OnPassive's sole source of income.
That's where Mufareh really shined, though. In addition, (Mufareh) stated that he recently dined with government officials. I mean, come on, that's awesome. Whenever OnPassive's ethics and legality are called into question, our CEO says he has dinners with governors and other high-ranking Americans officials. And they're blown away by what OnPassive is accomplishing.
They're baffled by how he pulled this all together. The FTC Act prohibits implying that the United States government has given its approval or cooperation to OnPassive. This on top of misleading marketing, income claims, and the fact that OnPassive's matrix model is a pyramid scheme, which makes it even less trustworthy.
Millions of dollars in membership fees are rumored to have been collected by Mufareh through OnPassive and O-Founders (formerly GoFounders). After India, the United States is OnPassive's second-biggest source of new employees (26 percent) (53 percent ). Multiple accounts are believed to be owned by a number of OnPassive affiliates.