UK authorities have taken OmegaPro's funds. OmegaPro set up a UK shell business, OMP Money, in order to gain access to financial channels. Viola Money, which was shut down by UK authorities in December, was linked to OMP Money.
I'll go back to the beginning to give an overview of the current situation.
OmegaPro is a basic Ponzi scam with a return of 200 percent. In April 2020, OmegaPro incorporated OMP Money, a UK shell business, in order to gain access to traditional banking channels. Andreas Szakacs, a co-founder of OmegaPro, referred to OMP Money as "a bank".
OmegaPro's regulatory compliance, according to him, would not be complete without it. Go to the FCA register, which is the most vital thing for you to do. You may look up OMP Money on the FCA register to discover if it is subject to their oversight. This would be a first for our industry, and I'm thrilled to finally share this news with you.

Viola Money, yet another UK shell firm, served as a conduit for OMP Money's financial activities. In June 2021, the FCA deregistered OMP Money because of regulatory issues. In December of 2021, OMP Money would be temporarily revived before being deregistered once more. V-Wallet (Europe) was launched in July 2015 as Viola Money.
There were changes made to the company's name and logo in May 2019. (Europe). In November 2018, Viola Money changed its name to Viola Money and registered with the Financial Conduct Authority (FCA). In addition to GBP and EUR payment processor services, Viola Money also offered banking services and prepaid debit cards to its customers.
When it came to banking, Viola Money used ClearBank (in the United Kingdom) and LHV Bank (Estonia) In accordance with Interpath, ClearBank notified Viola Money and the FCA of its decision to terminate its agreement to provide banking services to the company on October 22, 2021.
This termination took effect immediately. As a result of their investigation, ClearBank discovered the following facts about the company's operations: • Unusual demands for payment -Types of financial crime; and Failure to properly and effectively monitor transactions by the company. On October 29, LHV Bank issued a notification to Viola Money stating that it was cancelling their contract.
On November 2nd, the FCA began legal proceedings against Viola Money. It was announced on November 25th that LHV Bank had terminated Viola Money's banking agreement with immediate effect. Viola Money was deregistered on December 14th by the FCA. A joint special administrator position would be filled by two Interpath personnel in the future (Receiver equivalent). Interplay revealed the following in a 56-page study released on February 9th: According to the Company's records, customer account balances differ significantly from the actual balances held by financial institutions.
The Company appears to have never performed a customer funds reconciliation. We don't know yet if we'll be able to distribute the product to our clients. This shows that the JSAs currently have little control over the client funds. According to the report, "OmegaPro Services Ltd" has had €8454 EUR seized.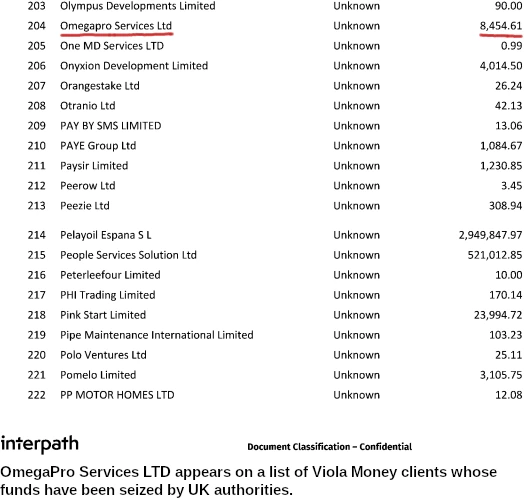 One another UK shell company linked to OmegaPro has been set up. OmegaPro Services Ltd was formed in May of this year and is based in a PO Box in Cardiff, South Wales. Only Per Anders Kagestedt, a Swedish national, is mentioned as Director. When the stooges in command of Viola Money ran into regulatory complications, they fled. Again, according to Interpath's findings, Viola Money's stockholders are Stephen John Davies (91.5%), and David Barclay (0.5%). (9.5 percent ).
Mary-Ann Townsend and David Barclay are the company's directors and are in charge of the company's electronic money. According to reports, the company's CEO and director, Mr. Barclay, is resigning on Dec. 8th, 2021. David Barclay and Mary-Ann Townsend, both of whom are listed as directors of the company on Companies House, have been contacted and asked to provide a Statement of Financial Affairs.
David Barclay has informed the Company that he will be stepping down from his role as a director on December 8, 2021, and that he will no longer have access to the information needed to complete a Statement of Affairs. Since her primary responsibilities were as the Company's Money Laundering Regulations Officer, Mary Ann Townsend stated that she had no knowledge of the information requested in the Statement of Affairs.
A Statement of Affairs has thus far been unavailable to us. Viola Money's majority shareholder, Stephen John Davies, does not appear to exist. No, I don't believe Interplay ever spoke with Barclay and Townsend in writing. For decades, the term "incorporation" and "fraud" have been used interchangeably in the United Kingdom.
On February 22nd, the Times ran a fascinating piece on Viola Money, which was clearly part of a wider money laundering conspiracy. It's a shame that the full article is behind a paywall, but the introductory paragraph piqued my interest enough to click through. The City regulator allowed a "fintech" payments business while its founder was being investigated for money laundering in connection with the OneCoin scam. According to a fresh report from the company's administrators, HM Revenue & Customs and local police forces have frozen "virtually all" of the funds under the company's control. The most recent report from Interpath that I could locate was the one stated in the previous sentence, dated February 9th.
A new report isn't on their website, therefore I can't check. Even though Viola Money is linked to OneCoin, The Times does not reveal how. In Interpath's February 9th report, OneCoin is not referenced at all. But my own investigation brought me to the end of a discussion on the shutdown of Viola Money, mentioning a February 2021 case in the United Kingdom.
There is also a paywall for this Court News UK story. There is still a lot of useful information to be mined from what is provided. Untold millions of pounds were sucked into a cryptocurrency fraud called "OneCoin," according to evidence presented in court. He has been accused of laundering up to US$105 million from the American scheme that promised investors risk-free returns.
However, Hamilton's OneCoin was worthless, and he was arrested in April 2016 at his residence in Cowbridge, South Wales, near Bridgend. Christopher Hamilton is a new name to me. There is no mention of his money laundering arrest in the UK in 2016. Here, what the heck is going on?! No, I'm not able to provide an answer based on the information that's readily available. Nevertheless, stick with me, for the rabbit hole continues to deepen….
In the UK, a schmuck named Dominic Welsh was arrested and charged in April of this year for a botched blackmail attempt. We are grateful to WalesOnline for providing us with a free article; a court heard that an ex-marine extorted a "petrified" corporate director from his house over a fictitious $32 million debt. Alleged victim Dominic Welsh placed his family under surveillance and threatened violence in order to reclaim money his employers believed they owed him, Cardiff Crown Court heard. The "victim" is none other than Christopher Hamilton, a "director for more than a dozen firms in the UK and overseas," according to a press release.
It's particularly disturbing, according to prosecutor Christopher Rees, that the defendant was also tracking Mr. Hamilton's wife and daughter, as well as the girlfriend of the latter's girlfriend. The message read: "On the debt, we are just about ready to make our move." The communication was obtained on Welsh's phone on June 7, 2017, the court heard.
As many as four targets are going to be attacked simultaneously. When it comes to the other two, "We're going to smack them around and threaten their families, but we're going to put it on them much more." After helping clients "recover" money, Welsh was supposed to be paid $30,000 in bonus money, according to his testimony. Who was Dominic Welsh working for when he was accused of blackmail? Armentar and his associate William Morro allegedly hired Welsh to retrieve money they thought they were owed, according to the charges.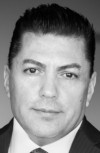 Ruja Ignatova's secret lover, OneCoin founder Gilbert Armenta, is in the picture. As of 2017, Armenta had been indicted and arrested by the United States. Sentencing is scheduled for Armenta, who admitted to five counts of fraud and pleaded guilty to them. Segun Onibalusi is reported to have used William Morrow as a pseudonym.
An accomplice of Armenta's, Onibalusi, is a Nigerian national. In April of this year, the jury found Dominic Welsh not guilty. I couldn't figure out what happened in the OneCoin money laundering case involving Christopher Hamilton. According to The Times, Christopher Hamilton looks to be one of Viola Money and OneCoin's connections.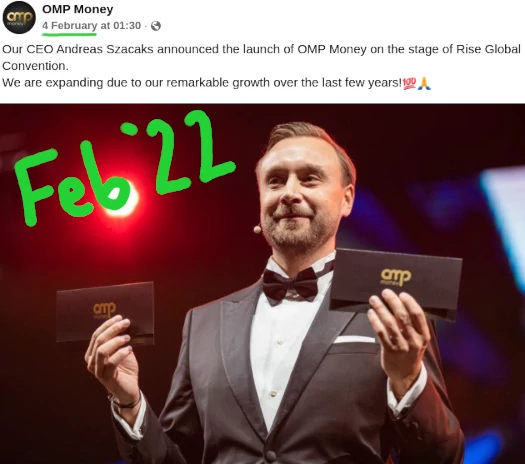 It's not clear if the UK government is still looking into Viola Money or if that will lead to any action against OmegaPro. On its still-active website, OMP Money promotes payment processing services. Users of OMP Money can now open a custody account that is just as easy to use as a checking account. Now is the time to put your money in our hands! It's unclear through whom OMP Money and OmegaPro are now delivering these services.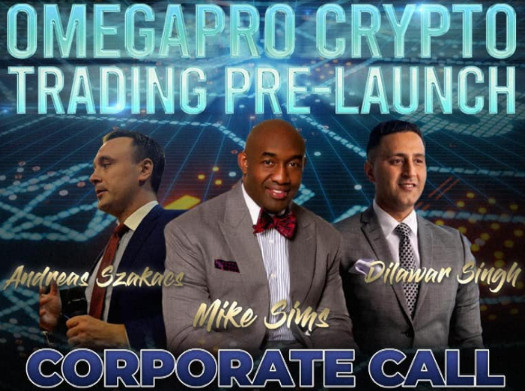 Andreas Szakacs (Sweden), Mike Sims (US) and Dilawar Singh (India) are the co-founders and co-owners of OmegaPro (Germany). OmegaPro is conducted out of Dubai, the world's MLM scam capital, by Szakacs, Sims, and Singh.
There has been a lot of interest from regulators throughout the world so far in OmegaPro.