On the KIWIsmart website, there is no mention of who owns or operates the company. On August 20th, 2021, a private registration was made for the domain name "kiwismart.org" to be used by KIWIsmart.
According to KIWIsmart's website, a "zoom launch event" will take place on January 29th. Since the first KIWIsmart marketing films went up four months ago, this seems weird. In my ignorance, KIWIsmart had already launched and flopped before I learned of its shortcomings. A second launch is now taking place. In any case, Rick Fleshman, Alex Ruiz, Syed Jawad Haider, "Tatjana", Jonas Todorovic, Mike Soh, Malik Atif, Christi Chitic, and Gian Luca Gallo will all be appearing on the KIWIsmart launch webinar. It appears that Rick Fleshman is in charge of KIWIsmart as its founder: In the United States, Rick Fleshman is based in California.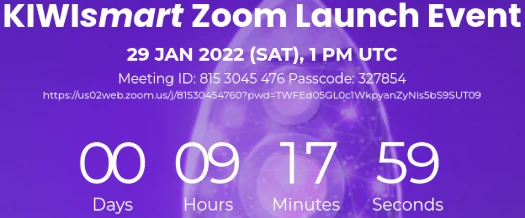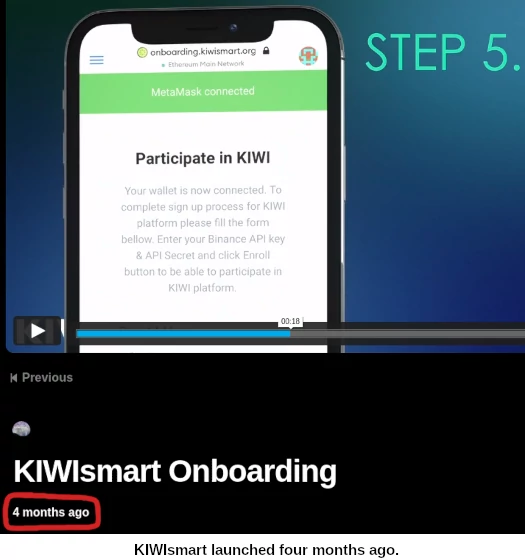 One of Ormeus Global's founders, Fleshman first came to the attention in 2017. There were three versions of Ormeus Global: Ormeus Global, IQ Chain, and IQ Legacy. Following John Barksdale's arrest in Thailand in 2019, the Ponzi scheme collapsed. After Barksdale's release, he has continued to operate the "Ormeus Ecosystem" plan. There isn't even a shred of interest.

Through iAM Marketing, Rick Fleshman is linked to John Barksdale. iAM Marketing's CEO is Fleshman: iAM Marketing's founder and chairman is Barksdale: When it comes to KIWIsmart, it's hard to tell if Barksdale is involved. Updated on January 30th, 2022. Javier Canales, a former Ormeus Global executive, is also a member of the KIWIsmart team.
Compliance director for Ormeus Global was Canales: KIWIsmart went into soft launch in August 2021, according to the first screenshot shown above. KIWIsmart's MLM potential is described in detail in the following paragraphs. The Products of KIWIsmart Third-party passive investment plans are also available through KIWIsmart. Ki100 is the name of KIWIsmart's new trading bot.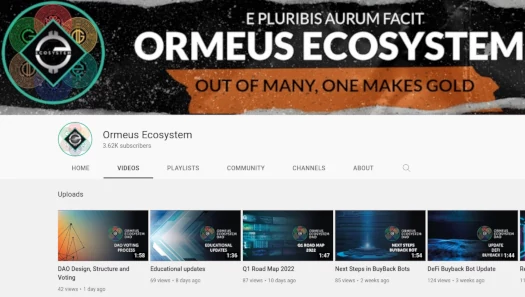 The Ki100 A trading aid for cryptocurrencies that connects to your cryptocurrency wallet via a trade-only API connection. With an easy-to-use user interface, you can change your risk level and withdraw your money at any time. Ki100 isn't mentioned in any technical or ownership context. "Opportunities in liquidity pools and yield farming" are what Ki1000 feeds KIWIsmart partners and customers. When it comes to passive investing prospects, the terms "liquidity pools" and "yield farming" are used by "crypto bros." Ponzi schemes are common in these cases.
It's not clear what else Ki1000 can do. "Trading credits" are used to cover the cost of using Ki100 and Ki1000. KIWIsmart affiliates sell trading credits. From $70 to $10,000, trading credits can be purchased. Invest $70 and get 90 trading credits in return. earn 280 trading credits for spending $250 540 trading credits will be given to you for $500 you get 1100 trading credits if you spend $1000 get 5750 trading credits for spending $5000 By investing $10,000, you'll get 12,000 trading credits back! To acquire new credits, you must use at least 70% of the credits you've already purchased. Monthly trading credit needs for Ki100 are estimated to be: Traded Credits for 70 Trading Credits $1,000 in trading credits ($1,500) To trade $20,000, you need 1000 trading credits and 5000 trading credits For $100,000, you'll use 10,000 virtual trading credits.
There is no information on how many trading credits are needed to access Ki1000. The Compensation Strategy of KIWIsmart Customers who purchase trading credits from KIWIsmart affiliates and the affiliates they attract are rewarded with commissions. The KIWIsmart Affiliate Program KIWIsmart's compensation structure has twenty-one levels of affiliate ranks.
The following are the requirements for each of them: Maintain one retail client or affiliate that you referred/recruited. Maintain two clients and/or affiliates who have been referred by you. Three retail customers or recruited affiliates must be referred/recruited and maintained under the K3 metric. Four retail customers or recruited affiliates must be referred or recruited and maintained as K4s. To earn K5, you must refer/recruit and keep five retail customers or affiliates. Refer, attract, and keep at least six customers or affiliates in the retail and/or affiliate markets Refer, acquire, and keep at least seven retail customers and/or affiliates for K7 Maintain and refer eight retail customers and/or recruited affiliates with the K8 program. 9 retail customers and/or recruited affiliates must be referred/recruited and maintained Refer, acquire, and keep ten new clients and/or new affiliates for K10 – 11 retail customers and/or recruited affiliates to refer/recruit and sustain refer, attract, and keep a total of twelve retail customers or affiliates who have been recruited 13 retail customers and/or recruited affiliates must be referred/recruited and maintained as K13 Recommend/increase/maintain fourteen retail customers and/or affiliates A minimum of fifteen new customers and/or new affiliates must be referred, recruited, and maintained. If you have sixteen customers or affiliates to refer, you've done well. Promote and maintain seventeen retail customers or recruited affiliates with the K17 marketing strategy.
Refer, attract, and keep a total of 18 retail customers and/or affiliates. Refer, recruit, and keep a total of 19 retail customers and/or affiliates for K19 Refer, attract, and maintain at least twenty customers and/or affiliates. Twenty-one retail customers and/or recruited affiliates must be referred, recruited, and maintained under the K21 program. You must have "active" retail customers and affiliates to count towards your rank qualification when you receive referrals and recruits.
A retail customer who has purchased 50 trading credits or more in the previous four weeks is either an active retail customer or a recruited affiliate. Also, keep in mind that KIWIsmart rank qualification is valid for six months. After earning a rank, you're guaranteed to keep it for the next six months, no matter what you do in that time. Once a month, you are re-ranked using the criteria you met in that month. For the next six months, the same rules apply. It's important to keep in mind that if you meet the requirements for a higher level at any point in time, the timer is reset to six months. Recurring Payments A unilevel compensation scheme is used by KIWIsmart to pay out residual commissions. An affiliate is at the top of a unilevel team in a unilevel compensation system, and every affiliate they personally recruit is right behind them (level 1).
Members of the unilevel team who are recruited by affiliates at the level of the original are automatically promoted to the next available position. In theory, there may be an unlimited number of levels of affiliates if any level 2 affiliates recruit new affiliates. Payouts for KIWIsmart's unilevel team levels are capped at twenty-one, with the following conditions: In order to advance in the unilevel team's levels 1–3, you must refer and maintain a single retail customer.
Two retail customers are required to access levels 4–6 of the unilevel team. Referring and retaining three retail customers unlocks levels 7 through 10 of the unilevel team. Five retail clients must be referred and maintained in order to unlock Unilevel Team levels 11 to 21. To qualify for residual commission, referred retail clients must be active. Residual commissions are given according to the following formula based on the 70 percent of trade credits spent that meet the preceding criteria: Personal referral level 1 – 30% of all levels. 2% to 5% to 10% of the population 2 percent of the population 21.5% of the total Pool Setup in a Flash "Commissions that were not qualified for in the last 30-day period" are used to fund the Quick Start Pool, which is a monthly bonus pool for members.
The Quick Start Pool for a given month is divided amongst KIWIsmart affiliates who introduce ten retail clients within thirty days of signing up. Bonus Pool for NFT An undetermined percentage of "commissions that were not qualified for in the last 30-day period" is used to support the NFT Bonus Pool. "Aldermen NFTs" and "Ambassador NFTs" are two types of NFTs. When a KIWIsmart affiliate receives an Aldermen NFT, unilevel volume (across 21 levels, minimum 300,000 GV each month) that qualifies in the top 300; and that position has been maintained for three consecutive months.
When a KIWIsmart affiliate receives an Ambassador NFT, sustains a position in the top 13 for three months in a row based on unilevel team volume (across 21 levels, minimum 3,000,000 GV each month) NFT Bonus Pool, as far as I know, is a standard share-based pool that is paid out monthly. It costs $49 per year to become a KIWIsmart affiliate member. The conclusion of KIWIsmart In their own words, KIWIsmart is organization in which membership is restricted to those who have been invited by members exclusively. KIWIsmart is a typical MLM opportunity for trading bot securities scam. It's one of those bots built by a person who has no trading history to back it up.
On or around November 2021, KIWIsmart began trading with its trading bot. The absence of any reference to trade history raises red flags. The FTC Act may have been violated if KIWIsmart failed to disclose information about the company's ownership, development, and previous trading of its bot (deceptive marketing). Passive gains created by KIWIsmart's Ki100 trading bot are used in securities fraud. Regulators in the United States use the Howey Test to prove the existence of an investment contract. Investing in a shared venture with a reasonable expectation of benefits coming from the efforts of others meets the criteria for an investment contract under the Howey Test. Affiliates in KIWIsmart use a bot to manage their funds. A "common enterprise" describes the bot.
A "reasonable expectation of earnings" is clearly in place when funds are placed in the bot. In this case, Kiwismart is in charge of the bot's operations, therefore it meets the criteria for revenues generated from the work of others. It should be noted that at the time of this writing, KIWIsmart has not been registered with the SEC or any other financial regulator. This suggests that at the very least, KIWIsmart is engaged in stock fraud. KIWIsmart, for its part, appears to be conscious of its actions. KIWIsmart's Policies and Procedures contain garbage like this instead of embracing their financial regulatory responsibilities; What Laws Apply? Where Does It Take Place? If a dispute cannot be resolved through arbitration, the DAO will vote on the appropriate jurisdiction and venue.
DAO is neither a law, jurisdiction or venue for legal proceedings. In addition, KIWIsmart does not want their affiliates to openly promote the plan for what it is: a scam! No matter what the SEC says, KIWIsmart does not operate as a pyramid scheme since it does not want to be seen as a Ponzi scheme. Even yet, something is off here. First, the compensation model of KIWIsmart indicates that retail customers must receive residual commissions. Affiliates can be replaced in a few pages later, as it becomes clear KIWIsmart does make it easy to check that your upline isn't operating their firm as a pyramid scheme if you're not concerned with securities fraud.
Records of 5.9 Retail Sales It is mandatory for every Affiliate to preserve a three-year record of every sales they have made. Every now and then, KIWIsmart will check to see if sales requirements are being met. A customer's purchases are automatically calculated towards qualification requirements on a monthly basis. KIWIsmart's retail is likely to be non-existent apart from its affiliates, in my opinion. 8.2 There are no refunds. There will be no returns on any things purchased using Trading Credits due to the nature of the product. Inadequate disclosures and anti-consumer practices like "no refunds" cast doubt on KIWIsmart's long-term viability as a retailer. The bottom line is that the KIWIsmart MLM trading system operates on the principle of "lulz can't touch our money!".
A customer or affiliate can use their own funds to fund a trade, but the bot does not belong to the affiliate or customer, leaving their account vulnerable to fraud. a "lulz can't touch our money!" trading system can come to an end in three ways: There are three possibilities: regulators shut it down, the bot purges accounts, or the administrators pull off an exit scam involving falsified trades. Regardless of whether or not participants are totally wiped out, they are still left with losses.


KIWIsmart's use of NFTs is the final topic I'll touch on. A gimmick as far as I can determine. Traditional share-based bonus pools do not benefit from the usage of NFTs. Or at the very least, no gain. KIWIsmart is able to employ crypto buzzwords in its marketing because of the utilization of NFTs. With the help of the NFT, individuals who join before others can much more easily take off those who follow: That's on top of the folks who signed up for KIWIsmart last year, hoping to recoup any losses by joining the revival.