Zallevo is a multi-level marketing company that specializes in nutritional supplements. On its website, the company provides a corporate location in Utah. There is no corporate or ownership information available on Zallevo's website. You'll find that information in Zallevo's marketing materials.
Zallevo's founder and CEO is revealed to be Brandon Broadwater. His social media profiles portray him in the same light. HealthSync Global, a Multi-Million Dollar Real Estate Company, the MPW Movement, and over a dozen other successful ventures are among his many accomplishments. In September of 2020, HealthSync Global changed its name to Zallevo.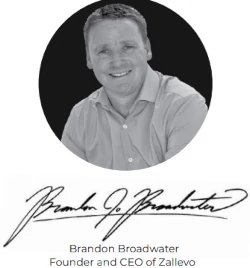 Founder and CEO Brandon Broadwater said, "We've done something we can all be proud of." It is our hope that by working with Zallevo, people will be able to benefit from our cutting-edge formulations, build a successful business, and contribute to a cause greater than themselves. HealthSync Global's decision to rebrand eluded me. Broadwater states on LinkedIn that he founded HealthSync Global in January of that year.
During the month of May 2019, the company held a "Global Official Launch". I'm not sure what the point of that narrative is. Prior to 2015, Broadwater appears to have no digital footprint. Read on to learn more about Zallevo's multi-level marketing program. Products Made by Zallevo, Zallevo sells a variety of health and fitness-related nutritional supplements.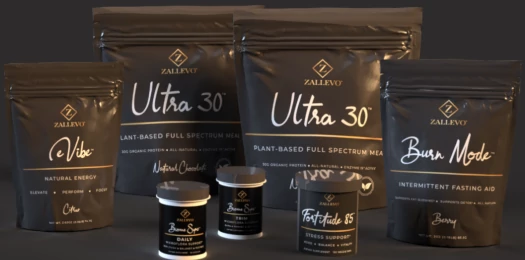 However, the price of Collagen 300 is $109.95 for a 4.23-oz pouch of the supplement that "supports skin and hair through collagen and elastin synthesis but also supports joints," according to the company's website (120g) At $67.95 for a 33.33 oz pouch, Ultra 30 Whey (Chocolate, Vanilla) is "grass-Fed New Zealand Whey Protein Isolate" (945 g) For $67.95, you can buy a 34.92 oz pouch of Ultra 30 Plant (Chocolate, Vanilla) – "plant-based full spectrum meal" (990 g) $42.95 is the price of one pouch of eVibe, which claims to be a "all natural energy boost" (111 g) Weight loss and cell regeneration support supplement Burn Mode retails for $45.95 per pouch of 3.9 oz (111 g) 120 veggie caps of Fortitude 85 – "a natural and effective way to support your body's ability to manage physical, mental, and environmental stress" – retail for $51.95 Biome Sync Daily costs $63.95 for a bottle of 30 capsules and promises to "give your gut what it needs to thrive." For a bottle of 30 capsules of Biome Sync Trim, you'll pay $74.95 for the "superb probiotic blend." Zallevo shaker bottles are available for $14.95 as an additional option.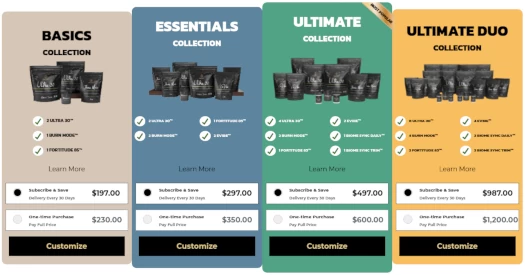 Zallevo also offers "collections" of products: These can cost as much as $1200. Compensation for Zallevo Retail customer autoship commissions are a big part of Zallevo's compensation plan. In addition to retail commissions, a unilevel team is used to calculate residual commissions. Aside from these, there are also a variety of performance- and rank-based rewards available.
An Affiliate Program for Zallevo. Zallevo's compensation structure has a total of twelve affiliate tiers. They are as follows, along with their respective qualifications: Become a Zallevo affiliate and generate and maintain 200 PV and 500 GV every month, mentors (max 250 GV from any one unilevel leg) Premier Mentor – 300 PV and 800 GV per month generated and maintained (max 400 GV from any one unilevel leg) At least 400 PV and 1200 GV per month must be generated by the Elite Mentor (max 600 GV from any one unilevel leg) Earn 500 PV and 2,000 GV each month (with no more than 1000 PV coming from any one unilevel leg) while also bringing on two Mentors each month and keeping them active. Monthly PV 500; GV 3500 (maximum GV from any one unilevel leg of 1750); and two Elite Mentors recruited and maintained – this is the standard for Gold Leaders. Create and maintain 500 PV monthly (max 3500 from one unilevel leg), and recruit and maintain two Silver Leaders each month (max 3500 from any one unilevel leg) to become a Platinum Leader. Maintain 500 PV a month, generate and maintain 15,000 GV a month (max 7500 GV from any one unilevel leg), and recruit and maintain three Gold Leaders 2 Star Servant Leader: Maintain 500 PV per month, generate and maintain 30,000GV per month (max 15,000 GV from any one unilevel leg), and recruit and maintain two Gold leaders and one Platinum leader. Servant-Oriented Leadership Keep at least 500 PV a month, have at least three Platinum Leaders, and have at least one unilevel leg generate at least 60,000 GV a month (max 30,000 GV from any one unilevel leg).
To be a Servant Leader 4 Star, you must have 500 PV per month, generate 120,000 GV per month (with no more than 60,000 GV coming from a single unilevel leg), recruit three Platinum Leaders, and keep one Servant Leader. a single star is awarded. Maintain 500 PV a month, generate and maintain 240,000 GV a month, and recruit and maintain three Platinum Leaders and two Servant Leader 2 Stars. Valiant Servant Leader – maintain 500 PV a month, generate and maintain 600,000 GV a month (max 300,000 GV from any one unilevel leg), and recruit and maintain three Platinum Leaders and two Servant Leader 3 Stars. This is the highest level of Servant Leadership.
PV (Personal Volume) is the abbreviation for this term. Sales volume generated by retail orders and purchases made by affiliates is referred to as PV (personal volume). GV is an acronym for "Group Volume." An affiliate's and their affiliates' downline's GV generates PV. Commissions Paid to Retailers Zallevo pays retail commissions on single orders as well as autoship. Zallevo.com. Based on rank, it appears that single order retail commissions range from 4 percent to 10 percent: Mentors get a 4% retail single-order commission rate for their services.
Premier In the retail sector, mentors are compensated at a 6% rate on single-order sales. Elite Mentors earn a single-order commission rate of 8% for their services. The single-order commission rate for Silver Leaders is 9%. A 10% retail single-order commission rate is given to Gold Leaders and above. Depending on the total monthly retail autoship volume, retail autoship orders are paid at a rate ranging from 10% to 25%. Retail autoship commission rates range from 10% to 25%, depending on the amount of PV generated each month. For example, if 200 PV is generated each month, the commission rate is 10%. For 500 PV, the commission rate is 15%. For 1,000 PV, the commission rate is 20%. For 1500 PV, the commission rate is 25%.
Recurring Work Using a unilevel compensation plan, Zallevo pays out residual commissions. An affiliate is at the top of a unilevel team in a unilevel compensation structure, and every affiliate they personally recruit is directly beneath them (level 1). Affiliates recruited by level 1 members are placed on the second level of their unilevel team. In theory, there could be an infinite number of levels of affiliates if any level 2 affiliates recruit new affiliates. Zallevo limits the number of team levels that can be paid for in the unilevel system to seven. There are seven levels of residual commissions to be earned based on rank in the company: On the first level, mentors are paid 4%. (personally recruited affiliates) On the first level, Premier Mentors are paid 6%. An elite mentor will make 8% on level one and 3% on level two. 9 percent on level 1 and 4% on level 2 are paid out to Silver Leaders. Level 1 Gold Leaders earn 10%, Level 2 Gold Leaders earn 5%, and Level 3 Gold Leaders earn 3%. Those who reach Platinum Leader status earn 10% on level 1, 7% on level 2, 4% on level 3, and 2% on level 4. SLS1 Stars earn 10%, 7% on level 1, 5.3% at level 2, 3.3% at level 3, and 2.2% at the highest level of service. 10 percent for level 1, 7 percent for level 2, 5 percent for level 3, 4 percent for level 4, 3 percent for level 5, and 2 percent for level 6 are earned by Servant Leader 2 Stars 3 Stars and higher Servant Leaders earn 10%, 7%, 5%, and 3% on levels 1, 2, 3, 4, and 5, respectively, and 3% on levels 6 and 7. Bonus for all time Affiliates who use Zallevo's Infinity Bonus feature can earn rewards up to and past the level of their unilevel team's level 8. An Infinity Bonus of 0.5 percent is given to Servant Leader 4 Stars Servant Leader 5 Stars receive an Infinity Bonus of 0.75 percent. A 1% Infinity Bonus is awarded to valiant Servant Leaders. When a team reaches a sales volume of $500,000 or more, they are eligible for the Infinity Bonus. An Early Bird Bonus Retail autoship customers and affiliates who have been recruited through the Fast Start Bonus program receive a 10% bonus on their first order.
Qualified sales volume generated by the unilevel team at levels 1 and 2 is used to calculate the Fast Start Bonus. Inquire about the Bonuses As a percentage of residual commissions and the Infinity and Fast Start Bonuses, the Check Match Bonus is paid. When a Platinum Leader or a higher is found in the leg, Zallevo considers that team to be in a new generation. That leg's first generation ends with this ranked affiliate, and the second begins right away. You're done with the second generation when you find your second Platinum Leader in the leg.
After them, the third generation begins. Second generation runs the full length of leg if no such affiliate exists. The Check Match Bonus paid a match on up to six generations per unilevel team leg using this generational structure: Up to one generation per unilevel leg is rewarded with a 5% Check Match Bonus for Servant Leader 1 Stars. Two generations of Servant Leader 2 Stars receive a 10% Check Match Bonus. Up to three generations of Servant Leader 3 Stars are eligible for a 12 percent Check Match Bonus. On up to four generations per unilevel leg, Servant Leader 4 stars receive a Check Match Bonus of 14%. On up to five generations per unilevel leg, Servant Leader 5 Stars receive a 15 percent Check Match Bonus. You get a 15% Check Match Bonus for up to six generations per unilevel leg for Valiant Servant Leaders Bonus for Rapid Progression Rank-based, timed bonuses are known as the Fast Advancement Bonus. The month in which a new affiliate joins plus the following three months constitute the Fast Advancement Bonus time period. During this time, affiliates who reach the Mentor, Premier Mentor, or Elite Mentor tiers will be eligible for the one-time Fast Advancement Bonus, which is as follows: receive a $50 Fast Advancement Bonus if you meet the requirements at Mentor. As a Zallevo affiliate, you are only paid on the highest Fast Advancement Bonus level that you qualify for. Bonus for Platinum Arrival When an affiliate reaches Platinum Leader status, they are eligible for a $500 bonus. In addition, the first Platinum Leader or higher-ranked affiliate receives a $500 bonus payment.
Zallevo affiliate membership costs $39.95 per year to join. Zallevo's Final Words No one will remember HealthSync Global because of its dreary name. I could be wrong, but I have the impression that HealthSync Global was renamed Zallevo in order to capitalize on the company's increased marketability. Zallevo's own promotional materials claim that as a result of fusing the Latin words 'Allevo' and 'Zenith,' meaning: 1. The period in one's life when one is most powerful and successful. 2. To raise one's status or morale by elevating oneself or one's situation. Motivate and develop individuals to reach their fullest potential. It's debatable whether Zallevo is more intriguing than HealthSync Global, but this brings us to Zallevo's weakest point: its products. I found nothing particularly memorable. Weight loss and general health supplements are included in your product line.
Brandon Broadwater states in Zallevo's marketing materials; "They are custom-made to achieve exceptional results by Zallevo. Is Zallevo's guarantee enough to convince me to buy all of my groceries from them? Competitive niches for powdered protein and nutritional supplements exist. I don't think a bland offering is enough for me. You must have a competitive advantage in pricing or formulation. Zallevo's products, on the other hand, don't seem to meet that standard. Zallevo's website could benefit from incorporating Broadwater's corporate information. By making this information more readily available, Zallevo's offsite marketing materials can alleviate some of the burden on their servers. While there are no retail volume requirements for Zallevo, they do emphasize retail autoship volume. It's nice to get a 30% bonus on retail autoship volume, but you have to meet the requirements."
Product credits (to be used for an affiliate's own autoship order) also encourage retail autoship at Zallevo. Free Products for Three Qualified VIPs! Monthly Product Credit of up to $150 is available to you. Three & Free is given to customers in the form of a product credit and must be used within two months of receiving it. PV's definition by Zallevo was an oddity for me: Personal Volume (PV) is the sum of all of a Wellness Partner's monthly commission purchases.
However, retail volume (excluding autoship) appears to be ignored here. If that were to be true, it would be a tragedy. Zallevo refers to retail autoship as "VIP Volume," which I've ignored to keep things simple. Rank qualification criteria include it, but I've merely lumped it in with PV for the purposes of this discussion. In my opinion, Zallevo's arbitrary monthly requirement of 200 PV is just too high. And each rank is only elevated as a result of this.
Good news for Zallevo affiliates is that the high PV requirements make it easy for them to see how their potential upline is running their business At a PV of 200, At least 100 PV in retail volume each month would be a good starting point. That would be a pyramid scheme if your potential Zallevo affiliate is just purchasing 200 PV worth of product each month and recruiting others who do the same. Zallevo's bundle packs could also benefit from a revamp. You are capable of achieving your health objectives. Sharing the experience with a friend or loved one will make it even more enjoyable. To help you both achieve your Zallevo goals, the Ultimate Duo Collection includes everything you need. In order to get the Ultimate Duo Collection, you'll have to pay $1200. Even if you're buying supplements for two people, you're not going to spend $1200 all at once.
As a Zallevo fan, I strongly recommend doing some research on the market before making a final decision. Ingredients and cost are both important factors. To get a feel for Zallevo's products as an affiliate (as a retail customer), consider purchasing one of the more affordable collections. Become a Zallevo affiliate for free, but be aware of the pressure to buy one of the more expensive collection bundles.
I wish you the best of luck!