On Drip Network's website, there is no evidence of who owns or manages the company. Private registration of the domain name "drip.community" for the Drip Network website took place on March 22nd, 2021. A rise in Drip Network website traffic in December 2021 coincides with the registration's most recent update on the 28th of December 2021.
Drip Network's website claims that the company is owned by the aliases "Forex Shark" and "BB" despite the lack of verifiable ownership information. In Telegram, they're known as "Forex Sh4rk" and "BBbest123," respectively. A video interview with "Drip Network & Animal Farm Creator Forex Shark" was just posted to the "Crypto Atlas" YouTube channel a few hours ago. An image of a Forex Shark can be seen below. A North American dialect can be heard in his voice.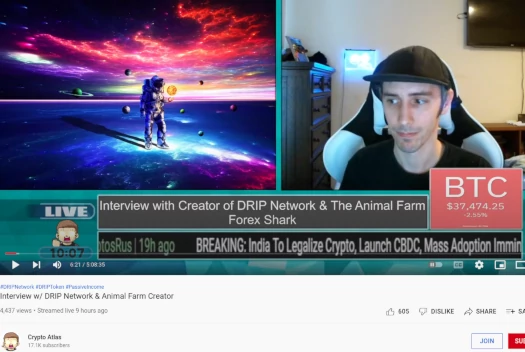 According to Drip Network's official whitepaper, "Mark" is the name of one of its administrators. Drip Network's website now receives the most traffic from the United States (41%), Australia (7%), and Canada (3%). (5 percent ). Remember to consider twice before joining or transferring any funds to an MLM that isn't completely transparent about who runs or owns it.

The Products of Drip Network. There are no products or services that can be sold through Drip Network. Only the Drip Network affiliate membership itself can be marketed by affiliates. The Compensation Plan for Drip Network BR34P tokens are purchased by Drip Network affiliates with bitcoin. Tokens purchased via the Drip Network can be exchanged for DRIP tokens. DRIP tokens can be parked with Drip Network, which promises a 1% daily ROI, once they've been purchased. If the individual who recruited you has recruited five or more affiliate investors, you will receive a 2.5 percent bonus on your investment.
Returns on the Drip Network are limited to 36%, beyond which additional investments are required to maintain the current rate of return. Internal BR34P and DRIP token values are not publicly available through the Drip Network. Drip Network's MLM division provides commissions for bringing in new affiliate investors. Commissions for referrals Drip Network uses a unilevel compensation structure to pay referral commissions. An affiliate is at the top of a unilevel team in a unilevel compensation system, and every affiliate they personally recruit is right below them (level 1).
Members of the unilevel team who are recruited by affiliates at the level of the original are automatically promoted to the next available position. In theory, there may be an unlimited number of levels of affiliates if any level 2 affiliates recruit new affiliates. Drip Network has a fifteen-level pay-per-level team level cap. These fifteen levels of referral commissions are paid out based on the following qualification criteria: the ability to keep To unlock commissions on level 1, you need to have 2 BR34P tokens in your linked wallet (personally recruited affiliates) the ability to keep On the second level, you will be able to earn commissions if you have 3 BR34P tokens in your associated wallet and 5 BR34P tokens. Unlock level 4 commissions with 8 BR34P tokens stored in your linked wallet. the ability to keep Your linked wallet must contain 13 BR34P tokens in order to activate and keep your commissions on level 5. Your connected wallet must have 21 BR34P tokens to unlock commissions for having and maintaining an account at level 6. In order to unlock commissions on level 7, you need to have 34 BR34P tokens in your linked wallet. the ability to keep Having and maintaining 55 BR34P tokens in your connected wallet unlocks and maintains commissions on level 8. You must have and retain 89 BR34P tokens in your linked wallet to unlock and sustain commissions on level 9. Having and maintaining 144 BR34P tokens in your connected wallet unlocks and maintains commissions on level 10. In order to unlock commissions on level 11, you must hold and keep 233 BR34P tokens in your connected wallet. hold and maintain 610 BR34P tokens in your associated wallet = unlock commissions on level 13 987 BR34P tokens in your attached wallet = unlock commissions on level 14 1597 BR34P tokens in your attached wallet Ten percent of referral commissions are handed out through Drip Network.
It's not clear if this is 10% each level or 10% across ten levels. Penalties for Early Withdrawal from the Program Drip Network penalizes affiliates that try to take between 1% and 10% of their invested funds balance: withdraw Fees for withdrawing 1 percent of the invested fund pool are 5 percent Fees are based on a percentage of the total invested fund pool of 2%. 3% of the invested fund pool equals a 15% charge for withdrawal. 40% of invested funds equals a 20% charge for withdrawal. 5% of the total invested funds = 25% of the total fee 30 percent of the invested fund pool = 6% of the invested fund pool There is a 35 percent charge withdraw if the invested fund pool is 7%. As a percentage of the invested fund pool, 8 percent of the fees are withdrawn. Retrieval of 45% of the invested capital, or $9,000, equals $13,500. A fee of 50% of the invested funds is equal to 10% of the total.
Drip Network is said to be reinvesting the fees it collects. Become a member of Drip Affiliate membership in the Drip Network looks to be completely free. BR34P tokens must be purchased and held in order to participate fully in the associated revenue potential. As a Result of the Drip Network, Binance launched the BR34P shittoken back in February 2021. DRIP was launched two months later:

[quote] Closed-loop Ponzi schemes such as Drip Network benefit the early scammers such as "BB" and "Forex Shark" before you. To put it simply, DRIP is two BEP-20 shit tokens linked together. Drip Network is a Ponzi scheme in which you invest other BEP-20 crap tokens in order to participate in the system. Welcome to the MLM crypto cesspool. The math that governs all Ponzi schemes lies beneath the crypto bro jargon. You can't take out more money than you put in. There's something particularly nasty about Drip Network because of this: To ensure that awards are paid in the event that the tax pool is insufficient, additional DRIP will be issued.
New DRIP tokens are created out of thin air to give the appearance of stability if the Drip Network is about to collapse. Back-end capital cannot be created out of thin air. When in actuality they are still unable to withdraw, all you're doing is telling people that they still have a chance. It's clear that Drip Network is on the verge of collapse thanks to a second Ponzi launch. Animal Farm was introduced earlier this week. Animal Farm is also known as "The Manor" and "Manor Farm" in addition to its more familiar name. Even if you term it "yield farming" Ponzi crap, Animal Farm is the same.
The REV token takes the role of the DRIP token. Of course, the Ponzi scheme is based on Animal Farm by George Orwell. It begins as any other farm, but the animals are preparing to take back what is rightfully theirs and take over the property. Farming, buying, and staking the L1 native farm token can help prepare for the revolution (REV). I didn't exaggerate when I mentioned that this is only appropriate for fools.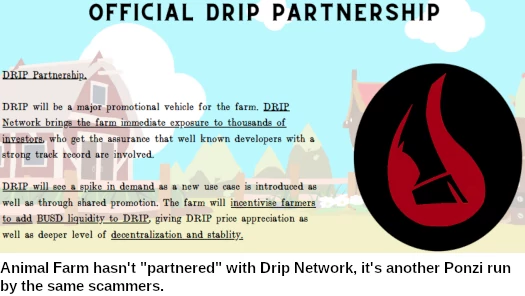 As a classic Ponzi scheme, Animal Farm has two tiers. I haven't wasted any time on it because it isn't MLM. Drip Network and Animal Farm will not be able to honor withdrawal requests if affiliate recruiting slows up, like other shit token Ponzi scams. Because of this, most investors will end up with worthless shittokens in their possession after the crash.