Top earner Wayne Nash's marketing film claims that the Paraiba Ponzi scheme is closing in on half a billion dollars in total funds raised so far. Investors in the United States account for a sizable chunk of that total.
Paraiba is an easy Ponzi scam to understand. If you put up to $49,000 into bitcoin, you'll earn a daily return of 0.3 percent. Every day, you'll earn 0.5 percent on your $50,000 investment. Bitcoin is accepted as a form of payment by Paraiba. A company-wide internal exchange system called Unique Exchange (unique-exchange.co) facilitates this.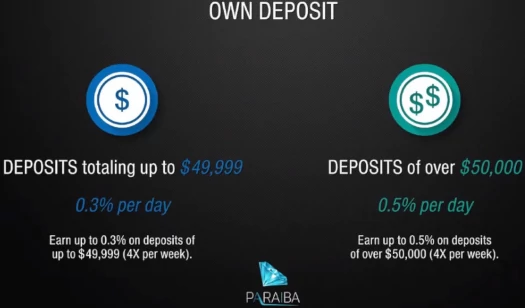 Trading cryptocurrencies is ostensibly how Paraiba gets its ROI. Paraiba World has never supplied authorities or investors with audited financial reports, in breach of securities law in any jurisdiction in which it seeks investment. Consequently, there is no external revenue source for Paraiba.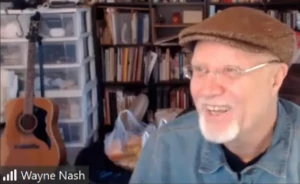 Paraiba's only strategy is to reinvest the money it receives from investors to pay out dividends. Paraiba's fraudulent investment comes with a recruitment-based remuneration plan. In order for Paraiba to survive, it needs to constantly attract new employees. Wayne Nash hosted a Paraiba marketing webinar on January 19.
In the webinar, Nash promoted the Ponzi scam to prospective recruits using the money he made in the Paraiba back office. There were 432,248 investor accounts with Paraiba as of January 19th. 219 accounts are under his direct supervision.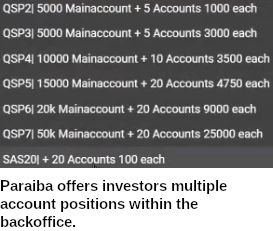 New recruits at Paraiba are given the option of investing across numerous accounts. In April 2020, Nash signed up and invested in Paraiba. 100 dollars on the 22nd and 900 on the 24th May 25th, $3550 One of Paraiba's first investors is Nash. Over the course of his time at Paraiba, Nash has personally attracted 87 new investors. They've put in a total of $458,744 so far.
"One individual approached me with the idea of investing $1 million. Let's get started with a $500,000 investment and see what happens." (laughter) In addition to recruiting his own team, Nash has a network of 7402 investors to support him. Nash's data reveals a total withdrawal of $525,978 from his $4550 initial investment (click to enlarge both screenshots).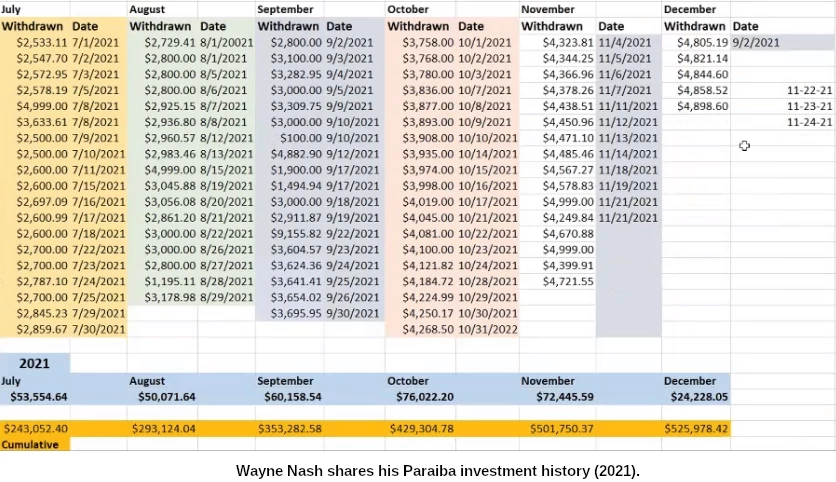 Since then, Nash says he's taken out more than $600,000 in cash. "Despite earning $698,000, I've only rolled back (reinvested) $50K of it. Not even close. I'd estimate that I've withdrawn more than $600,000 into my own bank account. And it's grown to a little over $50,000." Nash is currently withdrawing about $6500 per day from Paraiba as of January 2022. When it comes to bitcoins, Nash says his uplines are taking out tens of thousands of dollars each month! "My sponsor has a monthly income of $175,000 thanks to me. He has a wealthy backer who pays him $275,000 per month." As a whole, the Ponzi scheme has netted $407,239,660 since Nash's arrival at Paraiba in 2012.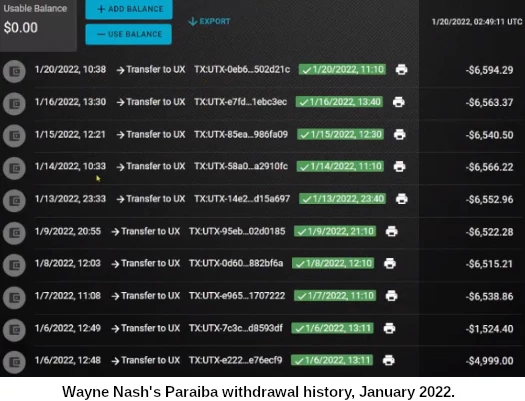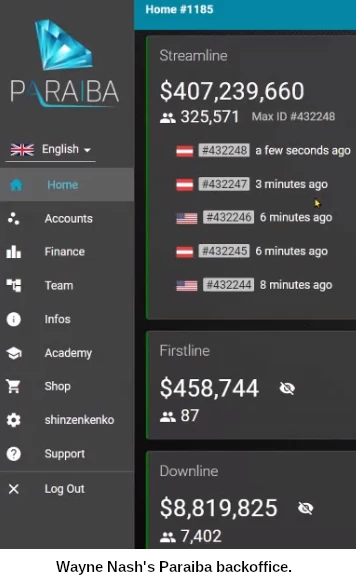 There is a total investment of around ten million dollars higher than the worth of Nash's backoffice, he claims. Approximately $417 million would be spent on this. There are currently 30 million bitcoins flowing into Paraiba each month, according to Nash. By the end of April, Paraiba will be a Ponzi scheme worth half a billion dollars.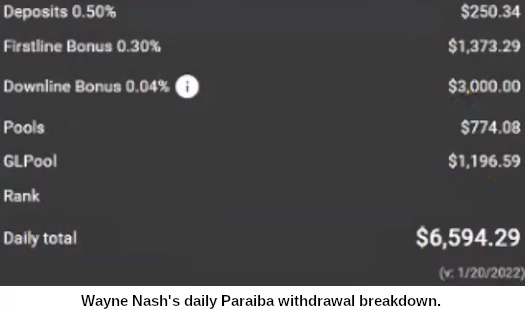 Erich Ely, a German national and a former OneCoin scammer, runs Paraiba (right). Ely hasn't yet fled to Dubai, the MLM scam center of the world, where Paraiba holds promotional events. He doesn't have any good reason to do it.
In Germany, the discovery of Paraiba was made rather quickly. In June 2020, Germany's main financial regulator, BaFin, issued a warning about the scam's potential for securities fraud. In February 2020, Austria issued a warning about the possibility of fraud in the Paraiba stock market. Erich Ely has not been dealt with by either Germany or Austria, despite the fact that Paraiba recruitment in both countries has dwindled.
Wayne Nash is well aware of this reality. Even BaFin, Germany's equivalent of the Securities and Exchange Commission (SEC), is in Austria… Because Paraiba isn't a recognized financial institution in 2020 they respond, "Oh well." There you go. "What's the point?" (laughter).
As a result of Germany's continuous inaction, Paraiba has grown into a Ponzi scheme worth about $500 million. Recruitment in Germany and Austria had already ceased. Unexpectedly, Honduras had become a recruitment source. Recruitment in Honduras has likewise decreased since then. According to Alexa, Switzerland (32 percent), the United States (21 percent) and Russia (14 percent) are the top three sources of traffic to Paraiba's website. Switzerland (48 percent), the United States (46 percent), and Vietnam (24 percent) are the top three countries that visit Unique Exchange via Alexa (6 percent ).
Because it's an exchange, you can now wire money to the exchange. But Paraiba happens to own the exchange. Because they own it, Paraiba has put in the work and is now part of the exchange… There has been no action taken against Paraiba by Swiss or US authorities to far. The primary target audience for Wayne Nash's Paraiba webcast was American investors.
Despite the fact that the Ponzi scheme is being widely advertised across the United States, Nash continues to deny that the company has any presence in the country. They're not even trying to break into the US market. Nobody wants to open the market up. "Yes, you can join…" is what they're basically saying. It isn't really a US-centric corporation, to be honest.
In reality, only a small percentage of persons… Is it like that in Dubai? How many people are there in Dubai? The majority of them could communicate in German. There were only around twenty or forty Americans in attendance, if my memory serves me correctly. However, the vast majority of people who tuned in to Nash's webinar were considered to be American citizens. "Just after" Nash was brought on board, Berdj Ghazarian made an investment in Paraiba. Does the US administration have any plans to tinker and tinker? Nash cuts him off, but Ghazarian's question is crystal clear.
There are a few things the US government can do. There are several examples of this, such as: In the United States, if you are advertising this, which is against the law, Paraiba would first expel you. Anything you post on social media will be deleted. Anywhere in the United States or any other country, you are not authorized to promote this. Only personal recommendations and word-of-mouth are used… International firms own a majority stake in this company. In the same way that there is no Germany, there is no Austria.
Despite the fact that the company's headquarters are in Germany… This currency is under American control. Okay? As a result, this company only accepts and sends bitcoins… In addition, they have seventeen lawyers, some of whom are based in the United States, who ensure that they are always in compliance with all applicable laws and regulations.
There is no SEC registration for Paraiba, Erich Ely, or Wayne Nash. When something goes wrong in either the U.S. or New Zealand, they can just announce they're no longer doing business there. It doesn't matter if they're operating in the United States or Austria or Germany; they're not controlled there.
In the United States, Austria, and Germany, securities are heavily regulated. Because Paraiba has not registered with financial regulators, it is operating and soliciting investment illegally in each of the three jurisdictions. Nash's talk of regulatory compliance is, of course, just lip service. No, Ponzi schemes and securities fraud don't bother him. "At $550,000, we've had a few folks show up." After five months, they've recouped their entire investment and are earning upwards of $100,000. I'm referring to a year or so ago. That's like knowledge from a year ago or anything like that.
Over $100,000 a month is still a lot of money for them. Let me know if you know of any Ponzi schemes that pay out $130,000 a month if you invest $4000 into them, and I'll get in on the action. A solid Ponzi scam, I'd say.
In 2015, MyAdvertisingPays has recently made the announcement that it was pulling out of the United States marketplace. When the Ponzi scheme collapsed, this was considered as the beginning of it. Nash, an investor in MyAdvertisingPays, appeared to threaten everyone with legal action. Expect a slew more lawsuits to be filed in the near future over this issue.
In the face of slander, MAP is not going to sit idly by. To be clear, I am a supporter of MAP and actively work to spread the word about how it has the potential to improve the lives of many people. MyAdvertisingPays cut all ROI rates within 24 hours of Nash's comment. Till September 2016, MyAdvertisingPays was barely able to keep up, and then the company officially went out of business.
According to rumor, Nash is a Canadian national. According to us, Nash has been a "Japanese resident" since 1985. The first MLM Nash was involved with was Dubli, which he joined in 2008.