Darren Yaw is scrambling to cover up his role in the Ponzi scheme at Guardian Capital AG. DMCA takedown notifications are the first step in an elaborate gaslighting campaign. I keep a running tally of DMCA takedown requests.
Fair use protects everything we post, but it's fun to watch who's trying to hide something. On December 15th, Darren Yaw filed a notice of intent to sue. Yaw was one of the co-founders of the GCG Asia Ponzi scam that collapsed. When I looked into the Chen Chiu notice further, I realized that we had never published anything on Chiu.
The Lumen Database shows a slew of DMCA notices filed against Chen Chiu on December 11th. That led me to a Chinese-language website about Darren Yaw's time in Cambodian prison. I was beginning to believe Chen Chiu and Darren Yaw were one and the same guy at this point. I found some previously unseen images of Yaw in a Cambodian prison on the website in Chinese.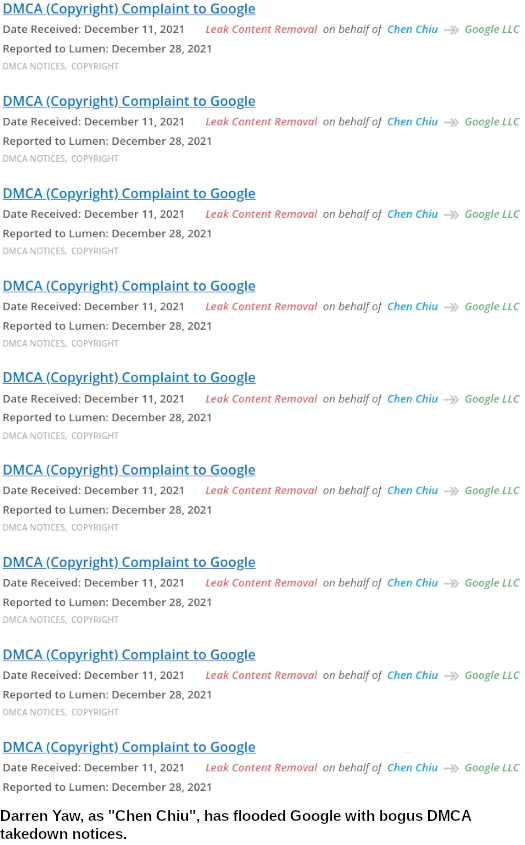 Yaw and his wife were jailed in Cambodia in 2019. It was tough to figure out what happened next. At this point in time, the only thing we knew about Yaw was that his wife had been freed, but he remained behind bars. Yaw was convicted of attempted fraud in October 2019 as "Yaw Foo Hoe" (??), according to a search of his criminal record I conducted today.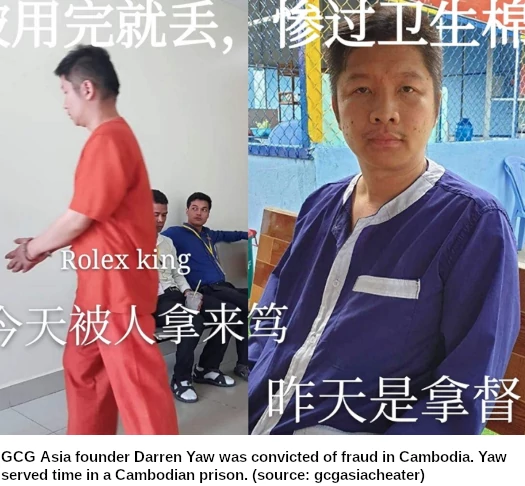 Yaw was given a one-year prison term, but the sentence was commuted to a five-month jail term with credit for time served. To put things in perspective for you, this indicates that Yaw was unveiled sometime in 2020 Q2. They're all very comparable in terms of DMCA notices. The following is an example from the aforementioned Chinese-language website: Someone has exploited a snapshot of our client, who is in the photo, to malign him.
False accusations were made against him and the graphics associated to websites and forums belong to him. It's illegal to use photos of him and his coworkers to spread bogus news online. To be clear, Yaw/Chiu was convicted, sentenced, and imprisoned in Cambodia for his crimes. I don't know who owns Yaw's prison images, but I've reposted them under Fair Use.
"Private images of my client, shot by him, have been posted online without his knowledge or permission. Despite the fact that he is a high-ranking Malaysian official, these disclosures have tarnished my client's reputation. There are no links to the content online because these are his private photos and are not intended for distribution online. They remain his copyright as a creator." we have only published this one photo of Yaw, excluding the prison photos above. GCG Asia's promotional literature stated that.
GCG Asia's website was taken down after Yaw's arrest, so the original source is no longer available. Regardless, Yaw's claim that it is a "private photo" is untrue. As far as I know, there wasn't a "leak." This isn't something I usually cover on its own.
What had Yaw been up to all this time? Reputation management through dishonesty and deception, it turns out. It was a simple Ponzi scheme that used pyramid recruitment to recruit new members. Yaw attempted to rebrand GCG Asia and his involvement in the scheme through a series of 2021 press releases. "Go Charge Go" was renamed in June 2021 as a fictional Malaysian electric vehicle business, while "Government Commission for Financial Governance" in July 2021 was renamed a fraud-fighting organization in Cambodia.
As of July of 2021, GCG Asia had also been repackaged as an Indonesian "education institution," complete with a false chief executive officer and an unsubstantiated relationship with a Cambodian college. GCG Asia was renamed Green City Group Asia in July 2021, with a fictitious CEO receiving a fictional award. An "edutech company" in Singapore that had been invested in by the Yaws was renamed GCG Asia in August 2021.
It was renamed "Martin Yaw Foo Hoe" in September 2021, when GCG Asia was relaunched in Indonesia as an Indonesian "luxury fashion distributor and retailer." Darren Yaw reappointed himself as CEO of GCG Asia in September 2021 as "John Darren Yaw," a fake advertising agency intending to grow into the United States. GCG Asia and Yaw's arrest and detention in Cambodia feature prominently in the news releases. The September 2021 fraudulent advertising firm article provides an example: Cambodia and other countries in the region are frequently mentioned in the articles.
People were duped by Yaw and GCG Asia. The objective currently appears to be to remove valid information via fraudulent DMCAs after publishing false information on GCC and Yaw throughout 2021. And it appears to be working, as well! What happens if you type "GCG Asia" into Google?
However, search results for Darren Yaw: have also been removed. It is worth noting that on December 11th Chen Chiu sent Google twenty-two fake DMCA notifications to remove content from a number of websites.