You can't find out who owns or manages CryptoCoin Share on its website. On September 24th, 2020, CryptoCoin Share's website domain "cryptocoinshare.uk" was registered. On October 11th, 2021, the private domain registration was last updated.
In November 2021, according to a search of the Wayback Machine, the CryptoCoin Share website started active. This indicates that the domain was acquired by the current proprietors in October of that year. Despite the fact that it was only founded a few months ago, CryptoCoin Share erroneously claims to have been in operation for 6210 days (about 17 years).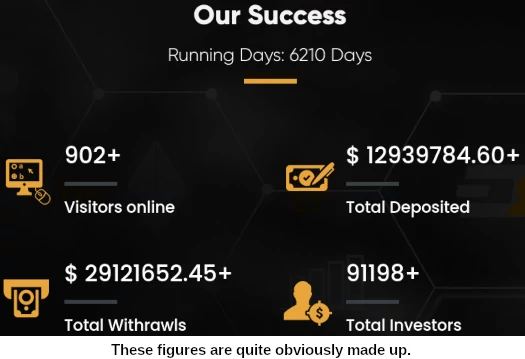 Trimax Limited's UK incorporation details are provided by CryptoCoin Share in an effort to appear respectable. It isn't apparent if this company is affiliated with CryptoCoin Share. Any MLM company that claims to be based in the United Kingdom is a red flag.
Cheap and unregulated incorporation in the United Kingdom is a godsend for small businesses. Even the UK's top financial regulator the FCA does not actively regulate securities fraud related to multilevel marketing (MLM). It is because of this that the UK has become a popular location for fraudsters who want to set up and run fraudulent businesses.
Registration with the Financial Conduct Authority (FCA) or incorporation in the UK have no bearing on MLM due diligence. Don't join or send over any money to an MLM firm unless they are completely transparent about who owns and runs it.
The Products of CryptoCoin Share At this time, there are no retailable items offered by CryptoCoin Share. Members of the CryptoCoin Share affiliate program are only allowed to promote the membership itself. Plan of Compensation for CryptoCoin Shares Affiliates of CryptoCoin Share invest in USD and cryptocurrencies with the expectation of earning the advertised returns.
Spend $20-$100 and get a return of 120% in just 24 hours! If you invest $100-$1000, you can expect a return of 140% within 48 hours. If you put in $500 or more, you will see a return of 200% in just one day. The return on a $1,000 investment is 300 percent after 72 hours.
On invested monies, referral commissions go down three recruitment levels (unilevel): level 1 (personally recruited affiliates) – 5% of the overall affiliate population 3% for level 2 and 1% for level 3, respectively As a member of the CryptoCoin Share There is no charge to join the CryptoCoin Share affiliate program.
A minimum investment of $20 in USD or cryptocurrency is required to participate in the linked income opportunity. Bitcoin, litecoin, ethereum, dash, and bitcoin cash are all supported cryptocurrencies via CryptoCoin Share.
Final Thoughts on CryptoCoins A "team of skilled traders" is said to be the source of CryptoCoin Share's revenue. There is no indication of trading or the existence of a trading crew. Furthermore, the business model of CryptoCoin Share lacks the logic of a Ponzi scheme. Wouldn't the anonymous admins operating CryptoCoin Share just trade for themselves and retire rich in a few months if they could produce 200 percent every 48 hours? Currently, new investment is the sole source of revenue that can be verified as entering CryptoCoin Share.
CryptoCoin Share is a Ponzi scam since fresh investors are used to pay out affiliate payouts. In all MLM Ponzi schemes, new investment will dry up as soon as affiliate recruiting stops. A drop of CryptoCoin Share is inevitable as a result of this depletion of ROI revenue. In Ponzi schemes, the math ensures that the vast majority of participants lose money.